Parquery takes privacy very seriously.
Our techniques comply with both, Swiss and European privacy laws (GDPR):
We do not store any images.
We automatically delete images after processing.
We can perform image processing and object detection on a server at the customer's premises. In this case, images do not leave the customer's premises.
Furthermore, Parquery guarantees that no personal data is present in the images: Our solution automatically blurs visible pedestrians and vehicle number plates prior to image analysis to ensure data remains anonymous.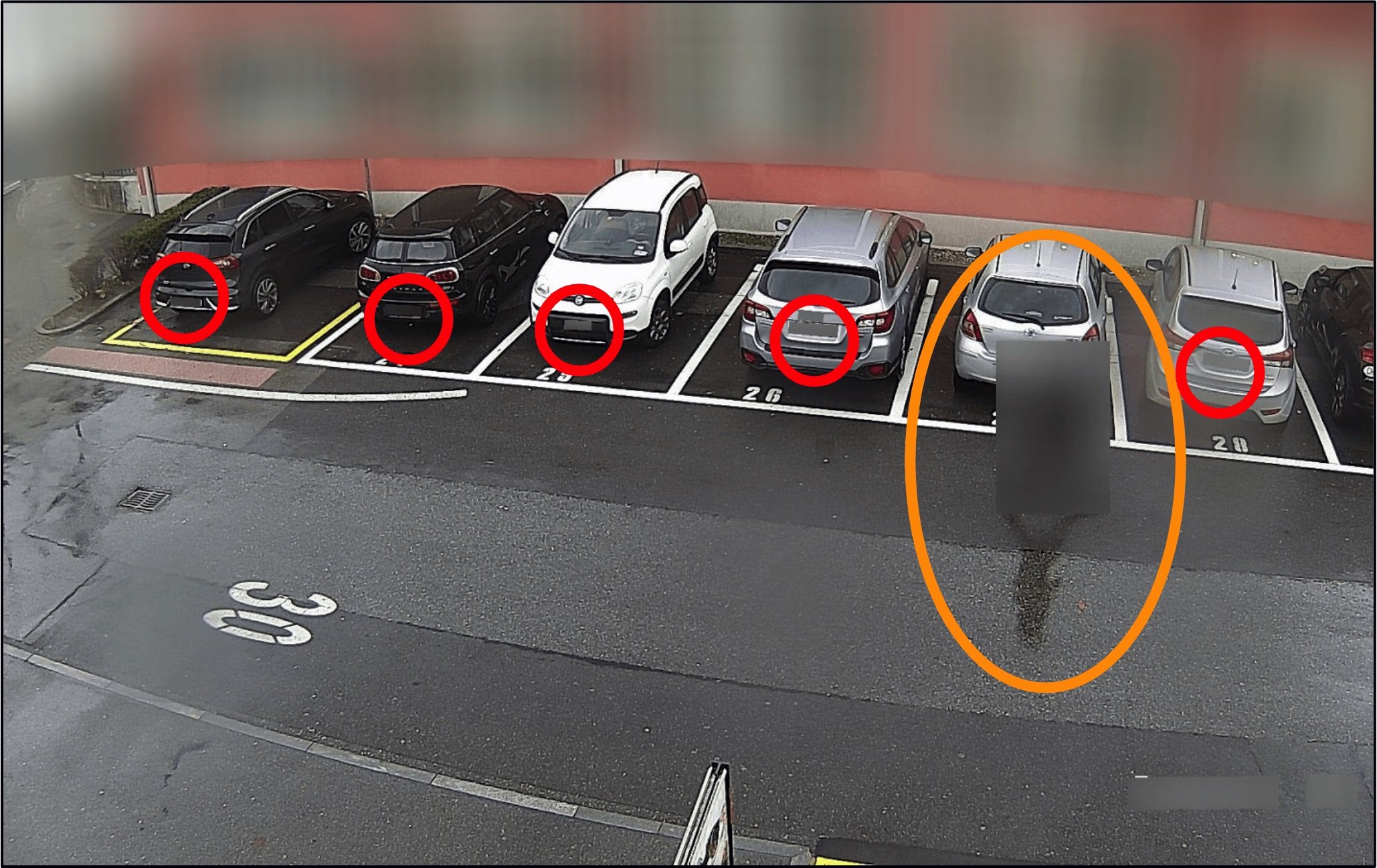 Learn more on how Parquery comply with privacy laws
Parquery works with both partners (distributors, camera installers, etc.) and end-customers (parking managers, facility managers, etc.).
Parquery's end-customers are parking managers or facility managers. They receive an interactive dashboard which supports them in understanding what happens on their premises. They are mainly interested in the following questions:
How can I guide drivers to available parking spaces?
How can I locate vehicles that are parked without having paid or are overstaying?
How do I find out how my parking area is being used? Can I receive data, analytics, statistics over the previous weeks or months?
Parquery welcomes partners such as parking companies, system integrators, camera installers, and others. Parquery delivers real-time results to these partners via an Application Programming Interface (API). This API is simple and easy to integrate into any partner's portfolio.
Real-time parking occupancy results.
Real-time alerts when a vehicle overstays the authorized time, exceeds the purchased time period, etc.
Vehicle detection in non-designated spaces: e.g. vacant lot used when the standard parking lot is full, double parking, parking in front of emergency exits, next to roundabouts, etc.
Statistics and structured analytics on any parking area within any period you prefer.
Custom-tailored reports sent regularly to your inbox.
A customizable dashboard.
Guaranteed 99% accuracy. Our Artificial Intelligence (AI) software is trained dynamically to perform even under adverse weather conditions like snow, hail, sandstorms etc.
Transparency: you can verify results yourself anytime.
Our Application Programming Interface (API) can be integrated into any partner's portfolio.
Upon request we offer a white-label solution.
Customizable operating hours: you can run Parquery's software 24/7/365 or only for specific periods, e.g. in the summer, during tourist seasons, during working hours, etc.
Subscription and/or purchase options.
Our software can detect:

any text.
any number, for example even numbers displayed on vehicle rooftops.
any silhouette.
any object on images from any cameras including boats, planes, trucks, buses, aluminum coils, public waste bins … practically any object you could think of.
Once Parquery receives camera pictures, we'll automatically send you the results the same day, guaranteeing a minimum 95% accuracy for the first few weeks.
After the first month (maximum 3-4 weeks), we can guarantee +99% accuracy.
In the initial month we train our software to adapt to your particular parking lot, e.g. handling "edge cases" (e.g. obstruction by a tree, glare, extreme shadowing, vehicles parked across two parking spots, etc.)
Yes. Upon successful completion of a pilot project, Parquery can invite your company to join our Partnership Program and discuss the various possible forms of exclusivity.
For each parking lot, there is a suitable smart parking solution. In an introductory call we start by analyzing your needs and wishes. This helps us figure out if we're the right partner for your project.
If we are not, we'll put you in touch with other providers who are better suited to your needs.
If we are, a Proof of Concept (PoC) is our next step. If you have a camera installed, we can start right away!
Within the PoC, we will develop a fully functional prototype that will enable you to see, check, and evaluate Parquery's results for yourself: in your parking lot, integrated into your products, in real time, without commitment, and at little financial expenditure.
We will also assess the likelihood of success, which depends on the en-user's requirements and preferences, the infrastructure in place (WiFi, existing light poles or tall buildings suitable for mounting cameras, etc), the options for installing such infrastructure, power supply options for the cameras, the environment (trees, other risks of occlusion, etc.), or privacy and data protection regulations in each country.
Find out more about how Parquery complies with the General Data Protection Regulation (GDPR)